Our ally's office was fire-bombed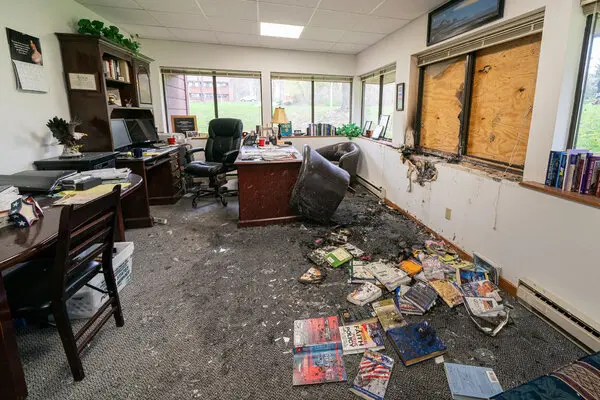 Over Mother's Day weekend, the left fought back against the Dobbs draft leak with a series of malicious attacks against pro-life advocates and our SCOTUS justices.
On Saturday night, a mob surrounded the home of Justice Brett Kavanaugh and screamed outside his door. "You don't get to take away our bodily autonomy and enjoy your Saturday night at home. You get to do one or the other," one protestor told a reporter.
On Sunday, a leftist anarchist group attacked our sister organization, Wisconsin Family Action, by throwing two Molotov cocktails into their office, breaking windows, and lighting the building on fire. The arsonists also vandalized the outside of the building with a message that read, "If abortions aren't safe, then you aren't either."
Meanwhile on Sunday, approximately 100 pro-choice demonstrators targeted a Catholic church in New York City, forcing the church to cancel a monthly pro-life event. A crisis pregnancy center in Denton, Texas was vandalized with the words "Not a clinic." Leftists also wrote "[expletive] CPCs" in graffiti on a clinic in Portland, Oregon and "My body, my choice" on a Catholic church in Boulder, Colorado.
It seems that the left is as barbaric and unreasonable as ever. Instead of presenting a coherent argument when they don't get their way, they resort to throwing tantrums and even engaging in violence.
The left should be ashamed of their moral depravity and complete lack of respect for those with opposing viewpoints. Every individual should be free to speak the truth without fear of bodily harm and every one of our elected officials should stand firmly against the left's inhumanity.
While pro-abortion radicals attempt to threaten us into submission, we must remain unafraid and fight even harder for the truth and the unborn.
Indiana Family Institute is not going anywhere. We have spent decades preparing for this moment – the moment that Roe is overturned. Now more than ever, pro-life advocates must stand strong. We will do that.