Connecting pastors and legislators through IFI's Church Ambassador Network
Despite the insanity we are witnessing in America's evolving culture, we hold a secret weapon: The Gospel. 
The Gospel can be the balm that heals the wounds we are seeing in our nation and state right now. The Gospel can bring men and women, Republicans and Democrats, people of different ethnic backgrounds and views together to help address the problems in our state. Believe it or not, that is happening right here in Indiana thanks to IFI's Church Ambassador Network (CAN).
You may not recognize the Church Ambassador Network under that name, which originally began as "The Daniel Initiative" three years ago. In 2023, we rebranded to match the branding of the 17 other states who are standing arm in arm with us here in Indiana as we build bridges of relationship between the ministers of God and the ministers of government for the sake of the Gospel.
IFI General Counsel Josh Hershberger is the director of CAN. He and his team are equipping the Church to faithfully and confidently engage in public life, with the ultimate goal of transforming our cities and state through the power of the Gospel.
CAN has been making a significant impact in building relationships between pastors and government officials, partnering on tough issues such as foster care, the drug crisis, and mental health, and equipping and encouraging Christians to confidently and faithfully engage in government in quickly changing times.
Over the last three legislative sessions, CAN has hosted over 300 meetings between pastors and government officials, including:
Our U.S. Senators from Indiana, Todd Young and Mike Braun
Governor Eric Holcomb
Lieutenant Governor Suzanne Crouch
Attorney General Todd Rokita
Treasurer Daniel Elliott
Auditor Tera Klutz
Speaker of the Indiana House of Representatives Todd Huston
Senate Pro. Tem. Rodric Bray
and several department heads such as Director Terry Stigdon of the Department of Child Services, Director Christina Reagle of the Department of Corrections, and Director Fred Payne of the Department of Workforce Development.
During the past legislative session, God blessed and grew our efforts, and we connected with 123 legislators out of 150. Below is a photo of CAN pastors from around Indiana meeting with Indiana's Secretary of State Diego Morales.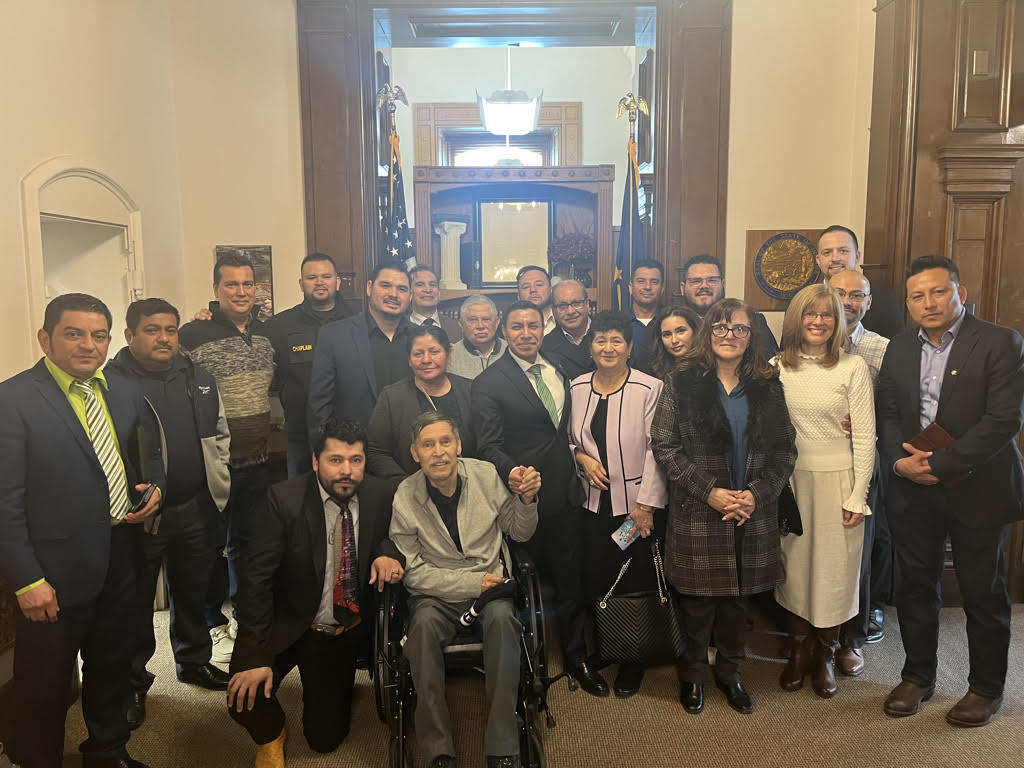 As IFI fights the policy and legal battles throughout our state, CAN is taking a long-term discipleship approach to reach those who have previously been unreachable. In order to create an environment here in Indiana where families can flourish and the light of the Gospel penetrate the hearts of Hoosiers, we must fight these spiritual battles on all fronts.
IFI started the Church Ambassador Network to address this question, "Where is the church in public life?" And we are grateful for all God is doing through it. We want to continue to expand the reach of CAN and make a greater impact for Christ in our state.
If you believe in this mission and would like to get involved with the Church Ambassador Network, please reach out to Josh Hershberger at josh@hoosierfamily.org for more details. As always, our work would not be possible without your support. Please prayerfully consider donating to CAN so we can continue to build meaningful relationships between pastors and government officials, uniting on the issues that matter most to our communities.