Here's why you should join HLS next year
Have you ever considered joining IFI's Hoosier Leadership Series (HLS), but you weren't sure if it was the right next step for you and your family? If you've been on the fence about joining, or you're just now considering it for the first time, here's one of the exciting features this program has to offer that may just convince you to take the final step & sign up:
In just a few weeks, HLS participants will travel to Washington D.C. and spend spend two full days in Capitol Hill, meeting with Indiana's congressional delegation and learning about important legislative issues. The action-packed annual trip will include opportunities for HLS members to interact with top state and national voices, and to hear from leading conservative organizations.
In addition to touring the U.S. Capitol, going on a prayer walk, experiencing the Museum of the Bible and listening to presentations from National conservative leaders, the group will have the incredible opportunity to hear from Indiana's federal delegation: Congressman Pence, Congressman Yakym, Congresswoman Spartz, Congressman Banks, Congresswoman Houchin, Congressman Buschon, Congressman Baird, Senator Young, Senator Braun, and our friend Congressman Gary Palmer (Alabama).
This trip not only provides a wonderful time of fellowship with other HLS members, but it lays the groundwork for anyone wishing to become more effective in changing culture for Christ here in Indiana. As Allie Beth Stuckey said so well at the Fall Dinner last year: "We care about policy because policies impact real people."
We want national, state and local policies to be a God-honoring blessing to our neighbors. By taking an inside look at the issues our elected officials are tackling nationally to best serve their constituents back home, you can more effectively carry out this worthwhile mission. This trip is a great time to network and learn from Indiana's leading voices, and we are excited about the opportunities that lay ahead for HLS participants in September.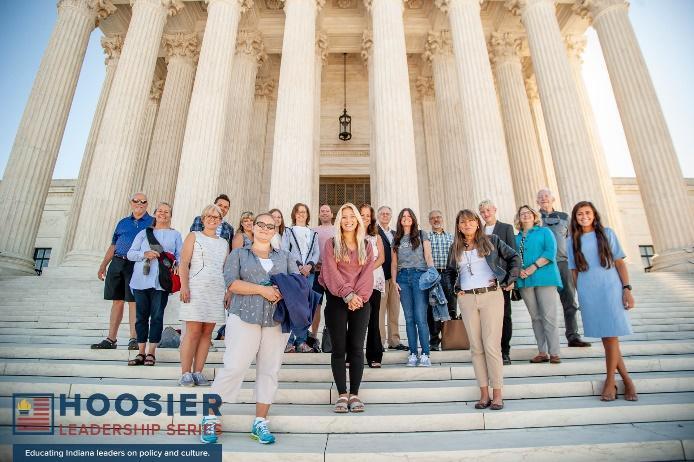 The purpose of HLS and trips like these is to create a movement of high caliber, committed leaders. These individuals come from across the professional spectrum, and they are grounded in a Biblical, conservative philosophy, oriented toward thoughtful cultural engagement and service to the people of Indiana and beyond.
We highly encourage you to attend next year's HLS, or if you cannot attend, please prayerfully consider donating or sponsoring a student! Your gift allows other Hoosiers to make a difference in their community and beyond. We will use your generosity to equip, educate, and mobilize the next generation of Indiana leaders.
We'd also like to extend a special thanks to our D.C. trip sponsor, Adler Attorneys, as well as Samaritan Ministries, our HLS sponsor. We're incredibly grateful for their continued support and the ample opportunities it provides our members.