Important Update: Indiana Parents Appeal to SCOTUS
On Monday, IFI's General Counsel Josh Hershberger filed a Petition for Writ of Certiorari asking the United States Supreme Court to review the removal of a child from Indiana parents due to their beliefs about sex and gender.
You may recall hearing about this case from us in past years. Mary and Jeremy Cox are devout Christians, and here is a video of them explaining their beliefs and the removal of their child from their home in June of 2021: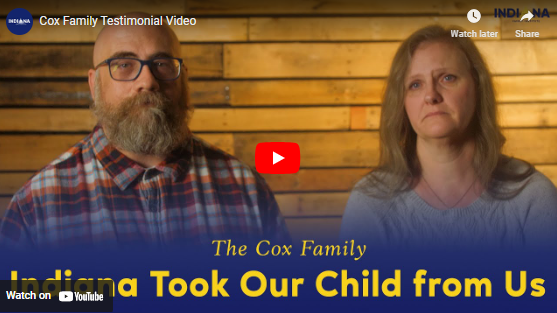 The Indiana Department of Child Services initiated an investigation of their home because they were not referring to their child (a biological male) with a cross-gender name and pronouns and generally affirming their child's self-identification as a girl. And DCS made the following argument for removal from their home at the initial hearing:
"We just feel that at this point in time this child needs to be in a home that's not going to teach her that trans, like everything about transgender… tell her how she should think and how she should feel. However, she should be in a home where she is excepted [sic][accepted] for who she is."
The trial court then removed the child from the Mary and Jeremy's home—and never returned the child to their custody—even after DCS voluntarily dismissed all allegations of neglect and abuse against them (including false allegations that they were using vulgar language and not treating an eating disorder). The trial court also barred Mary and Jeremy from speaking to their own child about the entire topic of sex and gender while placing their child in a home with a specific qualification: that home must verbally affirm the child's self-identification as a girl contrary to the parents' religious beliefs and best judgment. The parents were also limited to a few hours of visitation with their child one day a week. The trial court never returned the child to their home, and he aged out of the foster care system while out of their custody.
Despite acknowledging that Mary and Jeremy did not abuse or neglect their child in any way, the Indiana Court of Appeals astonishingly (1) upheld the removal of the child from the parents' home and (2) determined that the trial court's orders barring the parents' religious instruction to their own child in their own home was permissible because their speech was undeserving of heightened protection under the Indiana and federal constitutions.
The Indiana Supreme Court declined to review this case, so the parents are asking the U.S. Supreme Court to intervene on behalf of the bedrock constitutional principles of parental rights, free speech, and the free exercise of religion.
Indiana Family Institute is committed to seeing this case through, which is why our General Counsel Josh Hershberger filed the Petition this past Monday. It is critical that the US Supreme Court correct this horrendous judicial wrong or else the rights of parents everywhere in the United States are at risk due to this case.
As Mary and Jeremy conclude in their Petition, "No other fit parent should lose custody of their child or face a government muzzle on their deeply held religious beliefs and best judgment. M.C. and J.C. have exhausted every other remedy and are gravely concerned that the state of Indiana will come for their other children. This Court's intervention is needed."
Please pray with us that the U.S. Supreme Court will intervene in this matter and for our efforts next legislative session to strengthen parental rights in Indiana. The right and responsibility of parents—and not the state—to raise their children according to their beliefs is a Biblical, pre-political principle that must be protected in Indiana law. (Ephesians 6:4.)
Thanks to your partnership with us, IFI is here to support parents like Mary and Jeremy and to protect all parents in Indiana from similar interference in their homes.